Here are a few ways to get more out of the Creative Week Cape Town brand and campaign.
Use the logo
Place Creative Week banners on your website and blog. Right click on this image and save to your computer.
…and the email signature

Embed the email signature into your outgoing emails and post it online –on your social media spaces, websites and blogs.

…And the digital flyer
Post this on the walls of your friends and fans, on blogs, on your desktop background, and spread the creative energy.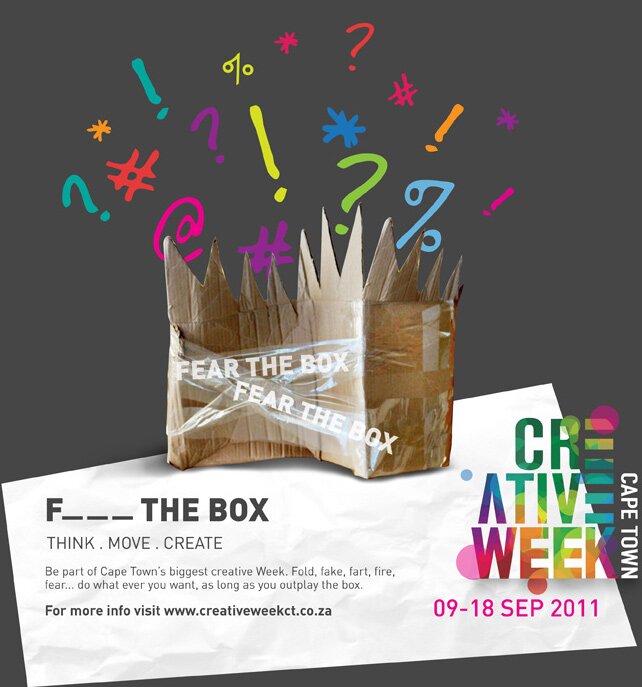 … And the marketing material
Bona fide events will be offered limited edition, limited range,in-house marketing material including:
A 3-dimensional poster to which you can add your own event details
Signature branding to display inside or outside your event to attract Creative Week followers, fans and friends
Email us ahead of time to secure your promotion pack (resources are limited) at .
Notify your networks
Word of mouth is still the primary social and professional currency in Cape Town. Shout it from the rooftops! Tell your friends, family members, colleagues and customers about your involvement in Creative Week. Get them excited and ask them to tell their networks as well. It's a lot cheaper (and easier) than sky writing.
Post to your favourite blogs & microsites
Write about your event and Creative Week and post to your favourite blogs and online communities.
Who's going to have the most interesting event at Creative Week? Start a .

What kind of innovation and creation would the Cape Town public prefer to engage with September 9 – 18? Press it!

Who wants to work with you on that eco-friendly art installation? can tell you!
Got a friend with a following? Tap into his or her tweets with your plans for Creative Week Cape Town using the hashtag . New to!
Ask your contacts to include your event details and URL, the Creative Week Cape Town logo and the Creative Week Cape Townsignature in their newsletters and their events calendars.
Reach more friends, fans and followers
Connect with us and with the world on these popular user-generated platforms:


We have over 7 100 connections and counting.
Follow . (Remember )
Don't hibernate – collaborate
Approach the creative entities you've always wanted to work with, and offer to co-host an event with them.The response will probably be positive, and even if it works out differently than you imagined, you'll have built bridges that last beyond September 2011. Now is the time to be bold!
Let local media know
Identify your favourite magazines, newspapers, websites and radio shows in the Cape Town area, the ones that reach your community. Tell them about your event with an angle relevant to their followers.